Book Aluminium Adorned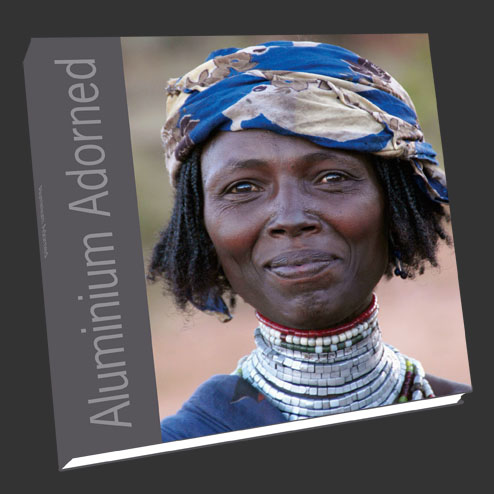 REVIEWS
"Tolle Idee, das Thema Aluminium," Monika, Berlin

" Niet alleen voor de sieraden liefhebber is dit boek een geweldige aanwinst, maar ook als je edelsmid bent of fashion sieraden maakt zit het boek vol inspiratie," Redactie Sieraden Focus
"I want to congratulate you on a wonderful new work.  I'm so proud of you doing this!  It's the first of its kind and a beautiful effort." Jim and Kathy Gray, Washington DC

"I've just received your Book. Great work, I had learned a lot." Bruno Mignot, France

"Congratulations wholeheartedly to your wonderfull little book on aluminum adornment in Africa. I have studied it with great delight and always thought a book of this kind should be written.Thanks for having picked up this topic and spicing it with your lovely pieces." Prof.Dr. Ekkehard Doehring, Germany

"Je boekje blijft prachtig." PAULIEN
"Mijn complimenten voor het zeer fraaie boekje. De fantastische en gedetailleerde foto,s tonen een toepassing van aluminium die voor mij en veel aluminiumfanaten niet bekend was." Paul Bruinsma, Directeur Aluminium Centrum Nederland
SUMMARY
The first booklet especially about the role of aluminium in African jewellery and utensils. A collector's item for anyone interested in tribal jewellery and in particular the use of aluminium.

Over the last 15 years Rudolf de Ruijter & Anneke van Santen travelled frequently through many African countries visiting authentic living tribes in remote areas.

They collected many pieces of jewellery, tools and articles of everyday use made aluminium. Photographer Riana Jongema accompanied the couple several times and took pictures of them on site.

The collection now totals over 160 items from 67 tribes in 21 countries.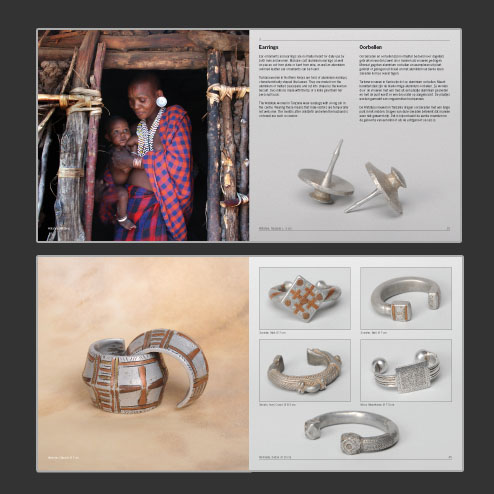 Aluminium Adorned shows the major part of the collection. Besides this the book explains the meaning and usage they have in the various countries.
Finally, the last chapter describes the 125 years history of Aluminium & Recycling.

Aluminium Adorned, 92 pages full-colour in hard cover. Format 21 x 21 cm.
Text Rudolf de Ruijter, 107 jewellery pictures by Riana Jongema, overview map of Africa with tribes and countries, graphics and 14 fieldphotos.
The book is available in two language versions:
English/Dutch and English/German.
Pricing: EUR 25,-
Order directly filling out the form below
------------------------
Shipping costs 2021:
Netherlands: • postage free up to 2 books

Europe, outside Netherlands: • postage EUR 8,50 up to 2 books
Worldwide, outside Europe: • postage EUR 18,50 up to 2 books

To order use the form below; 
Order Aluminium Adorned